Current Groups
Deepening Relationships Group
This is an on-going psychotherapy group for men and women who want to work toward creating a deepened sense of emotional intimacy in their relationships. Group members pursue this task in two ways. First, members are responsible for helping create a group environment where the hopes and vulnerabilities of living differently and more deeply can be safely and productively explored. Second, group members seek to learn from their experience in the group and explore new paths of being in relationship with themselves and others. The group is composed of six to eight men and women. It meets every week for eighty minutes. The group is on-going, so members experience and process the leaving of some members and the arrival of others. A minimum commitment of eight sessions is required to join the group.
This group meets Tuesdays, 7:00 to 8:30 pm, at 921 E. 86th St., Suite 210, Indianapolis, Indiana. To assess if this group is right for you, email or call us for more information and for setting up a free 30-minute interview.
Addiction and Attachment Group
This psychodynamic and attachment research based group is for people who are struggling with active addictions as well as people who wish to explore in what ways their reliance on and use of certain substances or behavior patterns is harmful to them and their relationships. It is meant to help people develop healthier and richer connections with others while exploring the meanings and consequences of their relationships with substances and processes.
This group meets Mondays, 6:00 to 7:20 pm. The fee is $60/session. Call Bernie Lyon for information or to schedule an interview for admission to the group: 317-259-8965, Extension 0.
Training Therapy in Psychodynamic Group Psychotherapy
Many therapists, social workers, and psychologists lead groups without having had the opportunity to participate as a member in group therapy themselves. Like a "training analysis" for psychoanalytic candidates, this weekly group therapy experience is designed for helping professionals who are or are thinking about leading groups. It provides an opportunity to experience and explore the ways a group uses our defenses, deficits and gifts, the way it shapes our relational strengths and vulnerabilities, our abilities to recruit and be recruited by others, our styles of leading and following.
The group is on-going and requires a minimum commitment of six months. The fee is $60/session. Contact Bernie Lyon at 317-259-8965, Extension 0, if you are interested in this training group.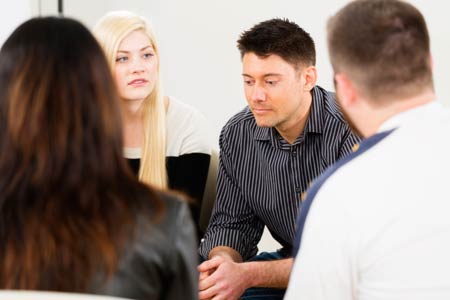 Indygroupwork
921 E. 86th St., Suite 210, Indianapolis, IN 46240
317-259-8965, Extension 0
Email Us for More Information